Last Thursday, the press was invited by Compagnie des Alpes in Brussels for the official presentation of the new Walibi, a brand new look and a revamped strategy for the 4 Walibi parks: Walibi Belgium (Belgium), Walibi Holland (Netherlands), Walibi Rhône-Alpes and Walibi Sud Ouest (France).

The Belgian capital has a symbolic significance in the history of the famous kangaroo as well as in the comic strips industry... a world in which the French group will jump in with both feet! That is not all: movies, cartoons and songs will become part of the world of the character. Ambition reigns, the objectives are clear, Walibi wants to impose on the European market of entertainment.

Walibi has also 35 years of experience and is a true success story! This is currently the second amusement park brand in Europe, and the only one to be present in 3 different countries. In 2010, the 4 parks have hosted nearly 2.8 million visitors for a turnover of 68 million euros.

The project is huge, considered as the most important phase in the history of Walibi, with new-look characters, a more contemporary image and an arrival in the media "off parks". Compagnie des Alpes is preparing to embark on an entirely new kind of activity, a real challenge and a feat which took nearly 3 years of work. The aim of the operation is to attract teens, ages 8 to 12 years whose parents typically adopt tastes. Gone are the days of the chubby kangaroo and family man, the new Walibi is 15 years old, a slender silhouette, with trendy clothes, a skateboarding and ... he is leading a music band!

A little bit of history

Let's take a short moment to talk about the history of Walibi. The character was born almost by accident, starting a game of words chosen by Eddy Meeus (the founder) after his son has suggested a resemblance with the wallaby, this small Australian marsupial cousin of... the kangaroo! Several big names from the world of belgian comics and several graphic artists took part in the evolution of Walibi, like Guy Dessicy (of Studio Hergé) or Michel Lelong (Belvision Studio), to make Walibi a true national icon in the mid-90s, symbol of family entertainment!

In January 2001, when Six Flags announced his retirement with the arrival of Bugs Bunny and company, people expected to see yet another Belgian brand disappear in favor of an increasingly globalized industry in amusement parks. But that's not counting on destiny ... The kangaroo has not given its final word and it was in January 2005 that he has made his comeback in front of a Bugs Bunny disavowed. He was not alone, joined by as many cartoon characters and a group of "new friends"... A new Walibi was born ... but not for long!

A hard work

It's Serge Naim, Director of Marketing, Development and Products, that has explained the job done by the Compagnie des Alpes in creating this new universe. After the acquisition of the Walibi group in 2006, the company was surprised by the notoriety of the parks. The kangaroo and the orange color was recognized by the public, which was already a lot for a brand ... but it was not enough for them!

Walibi was just an "image", a character somewhat smooth with no real founding story. It was necessary to create an emotional connection with visitors, give a more complex character, upgrade its image and offer him some friends with whom he could interact in a new universe. The goal was to build on what existed to create a new story for the heart to target of the Compagnie des Alpes: teens, these children 8 to 12 years whose tastes are becoming closer to young adults.

Gradually, the idea came to do more than just a style transformation. Walibi could get out of the parks and become a character in itself!



Serge Naïm adds: "We also had need to recondition the parks, and to upgrade the existing rides. By recreating Walibi, we will give a facelift to parks, we might even give a facelift to the entire industry, because we set our standards of quality and our ambition to a new level."

"The trip between the amusement park and an entertainement brand was a complex and long process. With an original approach, because we left the parks... to design characters, whereas in general it is quite the opposite! We have taken time to write the founding story, we had to rethink the adventure of Walibi as a character that will create emotions. We started from two elements: the daring and music, an important part of the park experience, and that is successful especially to teens."

The steering committee consists of a dozen people. They worked for 3 years to create this new world. It's not just a rebranding, but the design and implementation of new content, involving new mascots and a new musical universe. This new content has also been translated in terms of merchandising. Its implementation in the parks also will mobilize all operational teams.

Many experts were asked to participate in the development of the new universe, to propel a new dimension in Walibi. More than 200 persons have been implied in total.

The team is international, the movies are designed in France by Cube Creative, characters in Germany by Chris Creatures, the manga is made by "World Wide" in Hong Kong (with Wuye Changjie as illustrator and Jean-David Morvan as scenarist), the merchandising by Mudpie in the UK, the music in Germany, the logo by FigTree in France, the marketing strategy by Armando Testa Brussels in Belgium and Hémisphère droit in France, while Joravision & Upsilon will be in charge of implementing the new concepts into the parks.

As a picture is worth a thousand words, here is a making-of of the creation of the new Walibi brand:



You can see this video in HD on our Youtube channel


A new universe inspired by manga

When Dominique Marcel (Chief Executive Officer of the group) had announced last December that "Walibi did not really have a story", now we understand the scope of his remarks, both the brand new universe has been reflected and worked to provide the public with a totally new experience, a new story in itself.

This world, totally imaginary, takes us into the city of Monotowny (a word game with monotony), a world where fantasy and humour did not really fit ... The people have a destiny mapped out according to their species: parrots are journalists, dogs are police officers, bears are taxi drivers ... and birds are the only ones allowed to sing! And woe to him who dares to depart from the path he is supposed to follow!

Walibi and his twin brother Squad seemed condemned to a monotonous life ... Until the day they come into possession of a map that leads them to Shimmeria, a mysterious place filled with fantastic creatures. In this parallel world where magic reigns, the two brothers can taste the freedom to play music. For them it is a revelation: now, nothing can prevent them from living their own musical adventures!

Both are different, however: while Walibi believes that music and the joy of living can change the world, his brother is a staunch individualist who longs to be in the spotlight.



On the left, Walibi with his twin brother Squad on the right. (Click to enlarge)


Music is the key

Walibi creates his own group, W.A.B. (Walibi's Adventures Band) consisted by himself (as guitarist), but also by three other friends: Fibi, Haaz and Zenko!

Fibi is a sort of young water goddess originating Shimmeria, a fantastic creature that has a number of powers which she uses in case of absolute necessity. As singer of the group, she has nothing to envy to the haunting voice of her aunts, mermaids. Haaz is a cheetah, virtuoso of the guitar, and madly in love with Fibi which tends to favor individualism. Finally, Zenko is a gorilla, a prodigy drumer, shy and always cheerful! He doesn't support the draconian regulations that prevent people of Monotowny to laugh when they see fit.



Fibi, Haaz and Zenko are part of the W.A.B. group. (Click to enlarge)


To counter Walibi, Squad has also created his group, rather "dark rock", that he called The SkunX. He is accompanied by Motiv, a hypocritical and cynical raven
, master in the art to mess around, and who takes pleasure in sowing discord everywhere along its path. Deeply selfish, he will not hesitate to betray The SkunX, which he is the keyboardist, to serve its own interests. The third member of the band is Loco, a narcissistic bull under the influence and totally devoted to Motiv. As drumer, his few neurons become active only when he must choose his clothes...



Motiv and Loco are part of The SkunX group. (Click to enlarge)


Other characters will also be part of the new universe. Vita Drakovitz is an old asthmatic dragon, who runs the most appreciated bar
of Shimmeria, "The Psyke", which regularly hosts the W.A.B. in concert. Stingy and very motherly at the same time, she is a monster of paradoxes! The little Linaa is a chick of 7 years, a fervent admirer of W.A.B., and dreams of replacing Fibi in vocals, while Sara Fox, a vixen and ambitious business women, is the impresario of the group.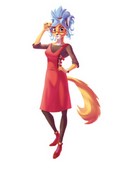 Vita Drakovitz, Linaa and Sara Fox. (Click to enlarge)


The two rival rock bands, W.A.B. and The SkunX, will engage in ruthless musical battles, called officially "The Music Battle". They both have already a flagship title "Hello World" for the group of Walibi and "We are The SkunX", a punk rock song for the group of Squad.






You can see these videos in HD on our Youtube channel


New rides and shows planned

In addition to the arrival of new characters in the parks, several new attractions are programmed.

The main one is the production of a 3D movie called Rokken Roll', where Walibi and friends embark on a wild adventure on Shimmeria. The movie will be presented in all the parks, sometimes in a 4D format (with special effects) as at Walibi Belgium, where Sponge Bob 4D is leaving.

Here is the official trailer of Rokken Roll', a movie that seems to be really dynamic and whose the graphic quality has attracted us particularly!




You can see this video in HD on our Youtube channel


Each park will also offer various entertainments and shows depending on the season. Walibi Belgium will host W.A.B. and The SkunX for a concert and a giant music battle in the amphitheatre.

The costumes of characters that will meet and greet in parks and perform in shows have been specially designed for musicians. The mouths are movable pieces for more realism and hands are very thin to allow them playing different instruments. We especially enjoyed seeing them moving on stage thanks to the fluidity of their movements and a modern look.



Here are the costumes for Fibi, Walibi and Squad. (Click to enlarge)


New communication strategy

To coordinate the strategy of the 4 parks, the logos have been changed (including the one of Aqualibi, the water park of Walibi Belgium) and some names have even changed! Thus, Walibi World is now called Walibi Holland and Walibi Aquitaine will now become Walibi Sud Ouest. Only Walibi Belgium and Walibi Rhone Alpes names will not change.

Walibi is preparing to invade the media landscape and will be present everywhere, whether in television commercials and on billboards. Of course, the current advertising and promotional campaign is already presented online, especially on social networks. Walibi, W.A.B. and The SkunX have already a fan page on Facebook, websites of the 4 parks have been remodelled, a new portal has been created (www.walibi.com) and "The Music Battle" website (www.themusicbattle.com) now offers to discover the world of cartoon characters, with mini-comic book, music videos, online games and many more. The whole being centered on the opposition between the two rock bands.



The new website of "The Music Battle".


The men behind the project

Serge Naïm (54 years), was CFO and Executive Vice President Finance of Euro Disney SCA until 2003, a group where he worked for 11 years at various operational functions prior to joining the Executive Committee. He joined the Compagnie des Alpes Group in 2005 as Board member and Director of Leisure Parks Branch. In March 2009, he became deputy director general of Compagnie des Alpes and since October 2009, he is also responsible for directing marketing, development and products of the whole group. As such, its main tasks are to improve the attractiveness and commercial performance of sites and identify any opportunities for development of the Group.

Rascal Udo Hüppe (45 years) joined the project team in charge of rebranding Walibi in July 2009 as director of content and creation. He led the mission along with his position as general manager of Fort Fun Adventure Land, the German site of the Compagnie des Alpes, before devoting himself to 100% in Walibi project since March 2010. Graduate in marketing and communication, and in psychology, Rascal Udo Hüppe began his management career in the music industry in the early 90 in Rough Trade Records / Zomba Records. It is also the source of Popkomm, a key event for the music industry around the world that takes place in Berlin. Musician himself, Rascal Udo Hüppe signed several successful and also continues to record and give concerts with his band "Rotersand".

Oliver Snyers (40 years) is the marketing manager of Walibi Belgium, Aqualibi and Bellewaerde since November 2006. Meanwhile, he was appointed Marketing Manager for the Walibi brand in July 2009 and as such oversees the marketing aspects of the rebranding of the four Walibi parks in Europe. Oliver Snyers joined the Compagnie des Alpes in 2002 as director of marketing and sales of Bellewaerde (then Starparks Group).

"Great parks, great brands"

The new universe of Walibi illustrates the ambition of the Compagnie des Alpes Group to enhance its brand and its expertise. The objective is to increase the growth potential and leverage the capacity for expansion. By 2012, 15 million euros will been invested (including more than 11 million to date) to cherish the brand and allow it to life in the parks, while opening new opportunities for long-term development.

Interviews with Serge Naïm, Caroline Crucifix and Dominique Fallon

We firstly had the opportunity to meet Serge Naïm, who had a leading role in the new Walibi.

NewsParcs : Your work has been concentrated on the brand, the characters and events. However, the competition is intense about new attractions, particularly in Belgium. Do you plan new rides for 2012 ?

Serge Naïm : You know, we are used to competition ! And this is a good thing, because more competition means that the industry works well. I think that with our new product we are establishing a qualitative and an original strategy. Our strategy can not only been focused on rides. We are in an entertainment industry, and there are others dimensions to introduce than only the opening of new rides.

NP : Contrary to Studio 100 (note : the Plopsa parks), you will use theme parks characters in order to create a new media universe.

SN : Yes, it's rather an original step. We started from our assets to create stories. But, of course, we are not the firsts to do that : Pirates of the Carribean for instance, where a story has been created from a ride. I think it is a fair step that our guests will understand, because if Walibi was a well-known name, a story was missing!

NP : Could the new brand been applied to others Compagnie des Alpes parks, or to further purchases ? We are particularly thinking to the Sindibad by Walibi project in Morocco for instance.

SN : Today in the group, there is no others candidates parks, otherwise we would have already turned them into Walibi parks. In fact, there is no other park in the group which matches what we want to do. However, in the future, our international development goes through the Walibi license ! Sindibad will be a first step, we are currently negotiating others. And this new brand, this new universe, gives us a great advantage, because when we will discuss with an investor in an emerging country, we will have real stories, with movies, advertising campaigns and series of products that will make the project even more attractive.

NP : In 2011, how many countries will broadcast Walibi productions ?

SN : For now, each country where our parks are located : Belgium, France and the Netherlands.

NP : With the possibility in the future to broadcast them in other countries depending on your projects ?

SN : Of course !

NP : Which kind of events are you going to organize in the parks ? We heard about concerts, music… Does it means that there will be new shows, themed parties ? Could you tell us more ?
SN : From April, in Walibi Belgium, there will be a big show based on the new characters' universe in the amphitheater. Our mascots and a lot of music will take place in all our parks too ! Walibi will also be at Aqualibi, in a sober way.

NP : Do you plan to use the brand and the characters in others conditions, like sport or event sponsorship ?

SN : Why not ! It is indeed part of the range of activities we could envisage.

NP : One last question : do you have a message for our readers, who sometimes are divided on the Compagnie des Alpes' strategic choices ?

SN : I have to tell you one thing : the strategy Compagnie des Alpes is very considered. We are industrials, and we will be here for a long time ! I sometimes understand the impatience of amusement parks enthusiasts, but I believe that we have a reasonable approach. When we took over the Walibi parks, they weren't in good condition. I didn't want add new rides, and I know this decision caused me harm, but I rather wanted to update the parks with a better quality level. Now that we did that, we can now create a brand, and once we will have a brand, we can start to open new attractions each year, because parks needs new attractions. We didn't add rides, because we had other priorities. Step by step, you will discover, I hope so, the quality of our strategy.

We also had the opportunity to talk with Caroline Crucifix, Public Relations Manager for Walibi Belgium.

NewsParcs : We now know it, the new characters will replace the former park's mascots (like Oscar, Wok, Mama Lily…). But what will happen to the famous comics characters that also arrived in 2005 ?

Caroline Crucifix : Each former character, except Lucky Luke (we just renewed our partnership), are going to disappear in 2011. The idea is to highlight the whole new Walibi universe !

NP : Does that means that some rides will be rethemed or have new names ?

CC : Exactly, by 5 years the whole Walibi universe will be present in our park. Several attractions will be rethemed or renamed. We'll start in 2011 and it's a big process and an objective for us.

NP : How is the Aqualibi construction going ?

CC : Everything is all right ! We are in the last step, Aqualibi will reopen next spring. It's going to be wonderful and there is several novelties, we are really impatient !

NP : Will Aqualibi be themed around the new Walibi universe?

CC : We'll remain in a jungle universe, it's foremost a water paradise ! But of course, in the future, the new world will also been approached in Aqualibi.

NP : Do you plan to offer a free access to Aqualibi with a Walibi ticket, like it was in the past ?

CC : No, they are two completely independent parks. But there will be a special offer for our guests willing enjoy Aqualibi after their day in Walibi.

NP : Several enthusiasts are critical toward Walibi Belgium novelties and have been disappointed by the park the last years. What would you like to tell them ?

CC : It's true that it is difficult to have unanimous support. Walibi will move a lot, with new opportunities, and we are very pleased to offer that to our audience. We will have a whole new Aqualibi, a new 4D movie and a big show ! 2011 will be a busy year for Walibi Belgium !

NP : Could you tell us a little bit about your future ?

CC : Yes, of course ! We introduced a renewal request for our environmental permitting for a 20 years term. We included the possibility of a rehabilitation for the Turbine roller coaster. It's one of the possible choices, no decision has yet been taken. A public enquiry is currently on its way.

NP : Does that means that the other project, a new Spinning Coaster replacing the Turbine, is still alive ?

CC : Yes, there is still two open choices, and there will perhaps be others because nothing has been decided yet.

At last, we had the opportunity to talk with Dominique Fallon, manager of partnerships and promotions for Walibi Belgium. He was part of the founding fathers of Walibi with Eddy Meeùs and he's working in the park since 1975.

NewsParcs : Mr Fallon, do you remember the early beginnings of Walibi as a character ?

Dominique Fallon : Once Eddy Meeùs and our team found the name and the kangaroo mascot, we wanted to give him a life. We contacted an advertising agency and several cartoonists we used to know, and we then had several projects. The agency drawing was very stylized, very 70s, it was just the shape of a kangaroo. Another was a more realistic kangaroo, we even could saw his brown hair… and he had sunglasses ! We didn't liked them. In the meantime, we were in talks with Tintin and his editor, Lombard, and we asked them about designing the mascot. Guy Dessicy, today president of the Belgian Centre for Comic Strip Art and former Hergé's cartoonist, drew this little orange kangaroo, a simple one. Eddy Meeùs liked it immediately so we chose it. And if we think about it today, if we had chosen another project, we wouldn't be here today !

NP : Precisely, you were close to Eddy Meeùs since the beginning. According to you, what would he think about this new look ?

DF : You should rather ask his son, Thierry (note : who also was part of the management committee in the 80s and 90s), but he's not with us today. Eddy Meeùs couldn't imagine what is happening today. The choice we made at that time enables the kangaroo to grow up and to give him the fame we know today. I'm sure that another drawing wouldn't had the same fate ! For me, seeing this new Walibi, and remembering the choice of an orange kangaroo, it's a rebirth ! It's the beginning of an adventure, Walibi gets out of the park which become just a part of his universe

Let me tell you an anecdote that will match your question better. At the end of 2000, beginning of 2001, Eddy Meeùs was no more working for Walibi (note : the group has been purchased by Premier Parks, now Six Flags), but was still coming sometimes in the park, like a grandfather visiting his baby ! We had an informal meeting with him about Six Flags' choices about the name change. There was such big changes planned, particularly with all those new rides, that we were, in-house, all very enthusiastic. During this meeting, Eddy Meeùs was the only one (and not with nostalgia) saying : "This is a mistake ! It's not fair.. Walibi is a so well-known brand, the kangaroo is so famous, that it is a real value, even a financial one !" And he added : "Let's make coexisting both brands, but how can you overnight throw this value?" Unfortunately, he died in 2002, and he couldn't imagine that Walibi would come back. He really believed in this brand, in its potential, but couldn't think that it would become a studio like today ! So I think he would have find that extraordinary ! He was the first to believe in this brand and he was right, whereas nobody trusted it.

NP : And personally, what do you think about this new Walibi ?

DF : I believe that for the kangaroo himself and for the adventure we started 35 years ago, it was the best thing that could happen ! We achieved to get Walibi out of the park in order to give him a new universe, giving him an all year-round life… And when someone works during 35 years with a very visible and open to the world company, he identify himself with it and that makes me very proud.

NP : Some words about Aqualibi now. You was involved in its conception in 1987, what are you thinking about the current refurbishment ?

DF : I will tell you another anecdote. In 1975, we had a lot of projects and one of them was a translucent pyramid with water activities and a large palm-tree in the middle. There wasn't water slides because it didn't really exists at that time. But this idea was so expensive that we had to give it up. And time goes by… During my holidays, I used to visit other parks. In summer 1985 in the Netherlands, I found by chance a water park with slides and a lot of things. I found it extraordinary and came back in Belgium telling Eddy Meeùs : "We need that !" He wasn't seduced so I went back there in winter and noticed that it worked very well also and that there was a lot of people. I finally brought Eddy there… and you know the rest ! So am I very pleased with Aqualibi's evolution !

NP : So, does that means that you are an amusement park enthusiast ?

DF : You know, when I found this job, it was a job like another. But at the beginning, Eddy Meeùs told me to visit Meli Park (note : now Plopsaland) to familiarize myself with the industry. At the entrance, there was a hedge maze, and when I was inside, I realized that I already came here as a child with my school. So at the beginning, I wasn't an amusement parks enthusiast, but I believe that it changed my mindset. I got involved and it became a second skin !

NP : Last question : what is your favorite new character ? Serge Naïm told us it was Walibi, and for you ?

DF : That's a trick question, because there is two stars : Walibi and Squad, who is jealous and malicious. But in reality, this brother has something pleasant.. so under his various guises, I like Squad !

NP : Thank you for taking the time to answer our questions !

Conclusion

We were very surprised by the countless energy and the work done on Walibi's metamorphosis. It's not just a redesigned logo, Walibi parks are now welcoming a character with a real universe, an unique source of creation of new content (for rides and shows) and a long term driving force. It is also surprising and pleasant to see Walibi getting out of the parks in the media market, and we can't wait to see those finished products !

See you from April 9th to discover this new universe in live !

Interview by François Mayné
Pictures by Newsparcs (unless otherwise stated)
Videos, images and logos : © Walibi
Click here to read this article in French