Clostermann Entertainment is a German company specialized in designing animatronics, theming and scenery primarily for dark rides and attractions with special effects. Recently, the company has worked to design special effects for the interactive haunted house "The House" with Alterface. We have also seen its work in attractions like Atlantis Abenteuer at Europa Park (Germany), Transdemonium at Parc Astérix (France) or Gargoyles Battle Magic Ride at Everland (Korea).

At the Euro Attractions Show 2010 in Roma, NewsParcs had the opportunity to meet Anne Walter Koschwitz who has responded to our questions about the actuality of the company.

NewsParcs : Could you tell us the highlights of your company for 2010 ?

Anne Walter-Koschwitz : One of the highlights of this year was the "Eisberg" project for the Vienna Prater. This dark ride was designed with a peaceful interaction concept: It is an interactive ride through Antarctica, where a team of young explorers sets out to document one of Earth's last untouched lands. Equipped with special cameras, guests are in competition to take as many pictures of penguins, arctic wolfs and whales as possible. By taking the pictures, they trigger special effects and surprising actions.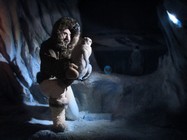 Clostermann achievements for Eisberg. This walrus sprinkles visitors with water!
© Clostermann Entertainment (Click to enlarge)

A W-K : In the last year we have also taken big steps towards becoming an entertainment provider. Besides still providing the services as an entertainment producer, we have developed entertainment concepts for shopping malls and travelling exhibitions, which will give us the chance to grow with our products and keep the values that we produce.

One visible highlight of this development was certainly the premiere of our first travelling exhibition "Bees - Nature's Hidden Heroes" at the Odysseum in Cologne (Germany). For this, we designed and produced various scenic elements such as animatronics, interactive exhibits, models, graphic panels, sound equipments and other decorative elements.

One cannot help but notice that quite some theme parks turn to educational programs, a development that we want to enhance with our products.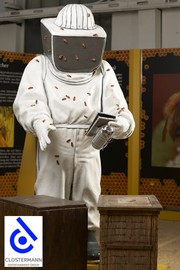 « Bees – Nature's Hidden Heroes » exhibition. © Clostermann Entertainment

NP : What are your future projects for 2011 and after ?

A W-K : Right now, we are working on the designs and concepts of some very interesting museum projects that are planned to open in October 2011 and in spring 2012. We are also working on the concepts of our next traveling exhibition about Galactic life and the forces of evolution.

Another concept are our Interactive Shooting Galleries, which we are planning on promoting some more over the next year.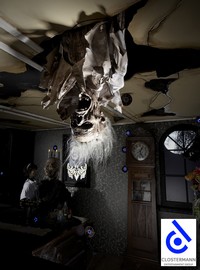 Clostermann offers various interactive shooting galleries with theming as varied as a bacteriological laboratory, a seabed, a house of horror "Eyecatcher", and a classic Wild West! © Clostermann Entertainment (Click to enlarge pictures 3 and 4)

Eyecatcher Shooting Gallery
NP : What are your last products and new developments?

A W-K : We have been intensively absorbed in taking interactivity some steps further. We have found innovative answers to interactivity with the latest theming update of the 5D haunted attraction "The House" and the Jeep Safari Ride that we both presented at EAS this year. Central for this innovation was also our proprietary Modular Shooting System which is a great advancement for interactive rides.

NP : Could you give us more details on this Modular Target System?

A W-K : The Modular Target System is an advanced effects control concept that can be easily adapted to any attractions. Unlike other systems, the effect units of the system work in a decentralized mode. Through this modular assembly, single effects or targets can easily be exchanged, upgraded or integrated into existing attraction..

NP : What could you tell us about the Jeep Safari Ride?

A W-K : The Jeep Safari Ride will also work with this system. It is based on the Fun Car Rides by FAB, where the driver can steer the car within a rail and determine the speed of the vehicle. Now, other passengers of the ride can target specific scenes in the themed landscapes to trigger special effects and animatronics responses.

The theming is produced by Clostermann Entertainment and can be designed according to customer's wishes, even the shooting system that can be a gun or a camera What we presented at EAS this year was an Asian Jungle theming that sends guests on an adventurous journey through a jungle of wild tigers, mysterious mountains and fascinating ruins.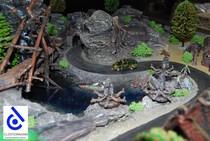 Jeep Safari Ride model ar the Euro Attractions Show © Clostermann Entertainment and NewsParcs (Click to enlarge)
NP : You were not at the IAAPA Trade Expo this year?
A W-K
: No, we have much work, so we decided to skip the IAAPA Trade Expo to focus on our projects and the Euro Attractions Show.

NP : Thank you very much for your answers!


Here finally two additional videos: the first is the animatronic that was on the Euro Attractions Show booth, and the second a making of Gargoyles Battle Magic Ride.





Interview by François Mayné.
Pictures
: © Clostermann Entertainment
unless otherwise stated.
Click here to read this article in French.